Handmade in the USA by one person (me), one set at a time. These are good solid wood grips that look absolutely awesome on your revolver. I guarantee it. Also, due to the natural variations in the grain and color of the wood, no two sets will ever be identical, so you don't need to worry about bumping into someone else at the shooting range with your grips on his or her revolver. The bottom line is, I enjoy what I do, and I take pride in my work. That's why I will always strive to make you a satisfied customer

.
How to pay: Click on the ADD TO CART button under the picture. Add as many items as you like and then click on PAY NOW. That is all there is to it. All shipping will be combined.
Shipping is $5.50 and I do combine shipping.
These are not square bottom. They do have the angle on the bottom.
FOLKS THESE ARE ALL HAND MADE 
It is Always best to have a set of grips made custom to your grip frame. This is also an option. I want to make you a set of these grips. If your interested in a custom set just drop me an email and we can go from there. Thank you.
I AM RUNNING BEHIND ON CUSTOM ORDERS BUT WILL LIST SOME GRIPS HERE JUST AS SOON AS I CAN. IF YOU WOULD LIKE SOME MADE , I HAVE A FEW BLANKS LISTED BELOW OR YOU CAN CONTACT ME BY EMAIL OR PHONE AND WE CAN DISCUSS WHAT YOU WOULD LIKE TO HAVE. THANKS VERY MUCH.    CHAD
ATTN. THE BLANKS LISTED BELOW WILL WORK FOR ANY GRIP THAT I HAVE. THESE ARE AWESOME BLANKS. IF PURCHASING BLANKS, PLEASE ALLOW UP TO

4

WEEKS TO BE MADE. THESE CAN BE MADE TO YOUR GRIP FRAME OR MINE. JUST LET ME KNOW BY EMAIL AFTER YOU CHECK OUT. IF I AM MAKING THEM TO YOUR GRIP FRAME, PLEASE ALSO ADD PRIORITY SHIPPING TO YOUR CART. IF YOU PURCHASE THESE FOR ANY OTHER FRAME BESIDES THE BISLEY, PLEASE LET ME KNOW.  THANK YOU
RUGER BIRDSHEAD GRIPS, MADE ON THE RUGER NEW VAQUERO FRAME BUT WILL FIT OTHERS.
IF YOU WOULD LIKE RUGER EMBLEMS ADDED, CLICK THE ADD TO CART BUTTON UNDER THE PICTURE OF THE RUGER EMBLEMS TOWARDS THE TOP OF THIS PAGE. THANK YOU
TAKING CUSTOM ORDERS FOR THE BIRDSHEAD GRIPS. IF YOU WOULD LIKE A SET, JUST EMAIL ME AND I WILL SEND YOU SOME PICTURES OF BLANKS THAT I HAVE. THANK YOU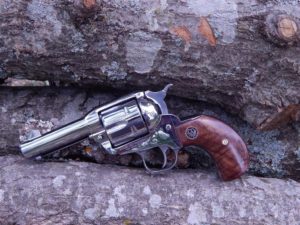 BLANKS ABOVE MAY ALSO BE USED FOR BIRDSHEAD GRIPS