How to navigate the website.

 
Go to the top of this page and hover on grip choices, then click on the type of grip that you are looking for. On that page add as many items to your cart as you would like. When you are finished shopping, go to the top of any page and click on shopping cart. There you can check out. Click on pay with PayPal. You do not need a PayPal account to pay. You will be able to pay either with PayPal, Debit card or Credit Card. 
Thank you.
If You are a Veteran, Your shipping is free, standard shipping only.  Email me for info at
EMAIL :            sales@chigsgrips.com OR  chadncindy@windstream.net
 SEND ME PICTURES OF YOUR NEW GRIPS AND I WILL POST THEM.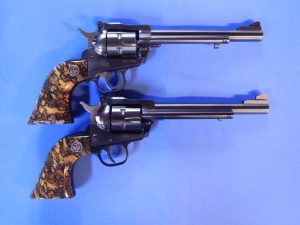 COME VISIT CHIGSGRIPS.COM ON FACEBOOK.
THIS WEBSITE IS UP TO DATE
CHECK OUT ALL THE SINGLE ACTION BLANKS THAT I HAVE LISTED. WHEN YOU BUY THE BLANKS, YOUR GRIPS WILL BE MADE FROM THAT SET OF BLANKS, FINISHED AND SHIPPED TO YOU FOR THE PRICE LISTED ON THE BLANK. 
I ALSO DO MAKE GRIPS FOR OTHER NON RUGER REVOLVERS. BASICALLY, IF YOUR REVOLVER HAS A ONE PIECE REMOVABLE GRIP FRAME I CAN PROBABLY MAKE GRIPS FOR IT WITH THE GRIP FRAME BEING SENT TO ME FOR CUSTOM GRIPS. YOU CAN EMAIL ME WITH ANY QUESTIONS OR CONCERNS. THANK YOU. CHAD
ATTN. I AM NOW MAKING SUPER BLAKHAWK GRIPS TO MY GRIP FRAME OR YOURS. DRAGOON STYLE GRIPS ( SQUARE BACK TRIGGER GUARD). FOR NOW, YOU CAN CHOOSE FROM THE GRIP BLANKS ON THE BISLEY PAGE AND THE S.BLACKHAWK PAGE. JUST BE SURE AND EMAIL ME TO LET ME KNOW YOU WANT THEM FOR THE S. BLACKHAWK.
SALE ON ALL GRIP BLANKS!! SALE ENDS SUNDAY 7/31 AT 5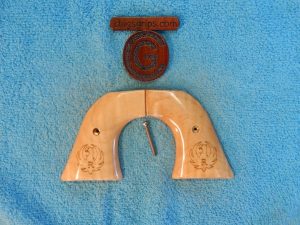 LOTS OF NICE SINGLE ACTION AND BISLEY GRIP BLANKS LISTED!!
PLEASE LIKE CHIGSGRIPS.COM ON FACEBOOK.
THIS WEBSITE IS UP TO DATE. 
Contact
Please if you need to contact me do not hesitate to send me an email at:
Phone ? 573-286-2352 or 573-793-6250 If I dont answer please leave a message and I will get back with you. Thank you.
Please, no calls after 5:oo pm central.
Thank you very much for stopping by